It didn't have to end this way….
I have witnessed [to my surprise] top jr. ski racers lose a ski on the first run of a race day due to binding adjustment issues.
Scenario 1: Race day is aggressive snow / Ice on course. Lots of chatter from the skis when turning.\
The Toe slide out pre-release during a turn is a very real possibility: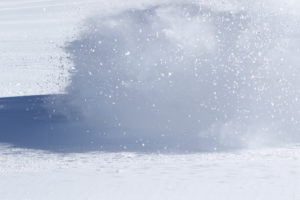 Scenario 2: Race course has a significant jump i.e. Duals SL, Combi, Super G type track.
The double heel ejection on landing is a real possibility:
Scenario 3: You give your skis to a shop for some "basic work"; it could be a simple tune, or, adjustment, etc… they ask you to fill out a "form" that asks for height, weight, etc…. you get the skis back the next day before a race…. little do you know, the bindings have been adjusted for "your" safety…..
Lets face it, ski racing is dangerous to start with. A pre-release ski can be even more dangerous! Know your / Kids ability, how aggressive they ski, know the course and conditions, make note of your binding DIN [snap a phone pic] before handing equipment over to a shop tech. It is my opinion that DIN charts in Jr. racing are a starting point… not the final word. It is my experience if a Jr. Racer can not "click-in" to a binding on a first try, its set too tight [high DIN]. Basic checks and last minute adjustments can improve safety and make race day far more enjoyable! Ask a coach or experienced Jr. Race Tech how to set the bindings if in doubt.
Point of reference DIN Chart Calculator:
http://www.mechanicsofsport.com/skiing/equipment/bindings/din-calculator.html
Some say to double the weight of a racer and use that weight instead of actual….
I do not use this method, however, I thought it worth a mention.