A Primer on the Gates used in Alpine Training and Racing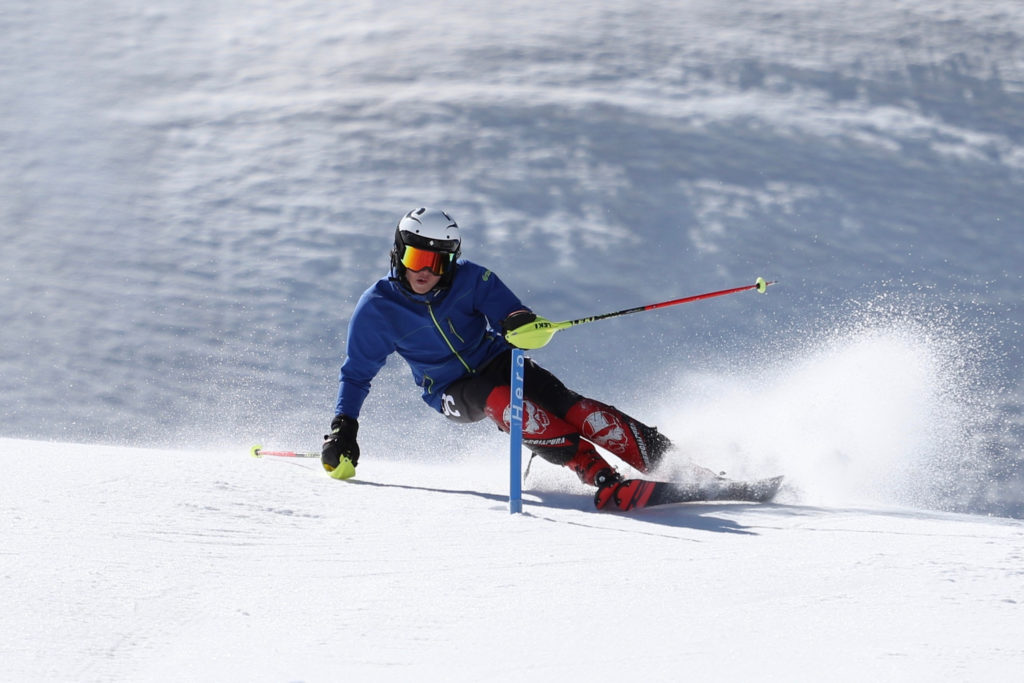 Modern Alpine Gates are made of plastic, however, this was not always the case…. Wikipedia gives a great overview in this summary:
"Traditionally, bamboo poles were used for gates, the rigidity of which forced skiers to maneuver their entire body around each gate.[7] In the early 1980s, rigid poles were replaced by hard plastic poles, hinged at the base. The hinged gates require, according to FIS rules, only that the skis and boots of the skier go around each gate.

The new gates allow a more direct path down a slalom course through the process of cross-blocking or shinning the gates.[8] Cross-blocking is a technique in which the legs go around the gate with the upper body inclined toward, or even across, the gate; in this case the racer's outside pole and shinguards hit the gate, knocking it down and out of the way. Cross-blocking is done by pushing the gate down with the arms, hands, or shins.[9] By 1989, most of the top technical skiers in the world had adopted the cross-block technique.[10]"

https://en.wikipedia.org/wiki/Slalom_skiing

Modern gates come in 3 basic sizes:
Stubby- soft rubber non-hinged 65cm high with screw in base. Primarily designed as a training tool, and not a racing gate. The stubby can help with teaching shinning gates without having to worry about cross-blocking. The stubby is also used for teaching a line or course over varied terrain without the added complexity of body position in contact with gate.
Jr or Mini Slalom Gate- plastic shaft measuring 25mm in diameter with a total height of 160 CM above the snow [ATS]. This is a gate height of ~5 1/4 feet above the snow. The hinges are always soft plastic bungee with brush or snow grip screw tips. Commonly known as "160's", these gates are used in USSA age class racing for Slalom and common for training at levels up to and including U14 in the United States. This is a "real" gate construction designed to flex and drop easily without being intimidating to young racers.
Standard Slalom Gate – plastic shaft measuring 25mm, 27mm, or 30mm in diameter with brush tip or snow grip tips and a hinge that can be bungee, metal or a plastic hybrid. All standard gates have a above the snow [ATS] height of 185cm or 73″ (~6′ tall) per FIS and USSA requirement. 25mm is usually a "training" gate; 27mm is the typical gate diameter for club and USSA racing. The extra stiff 30mm with metal hinge is considered a standard Word Cup Gate.
Gates are typically either Red or Blue color. Two slalom gates can be joined with a piece of fabric called a flag or sheath to become a "GS" type gate. The Plastic shafts have marks to indicate the minim height a flag should be mounted above the snow.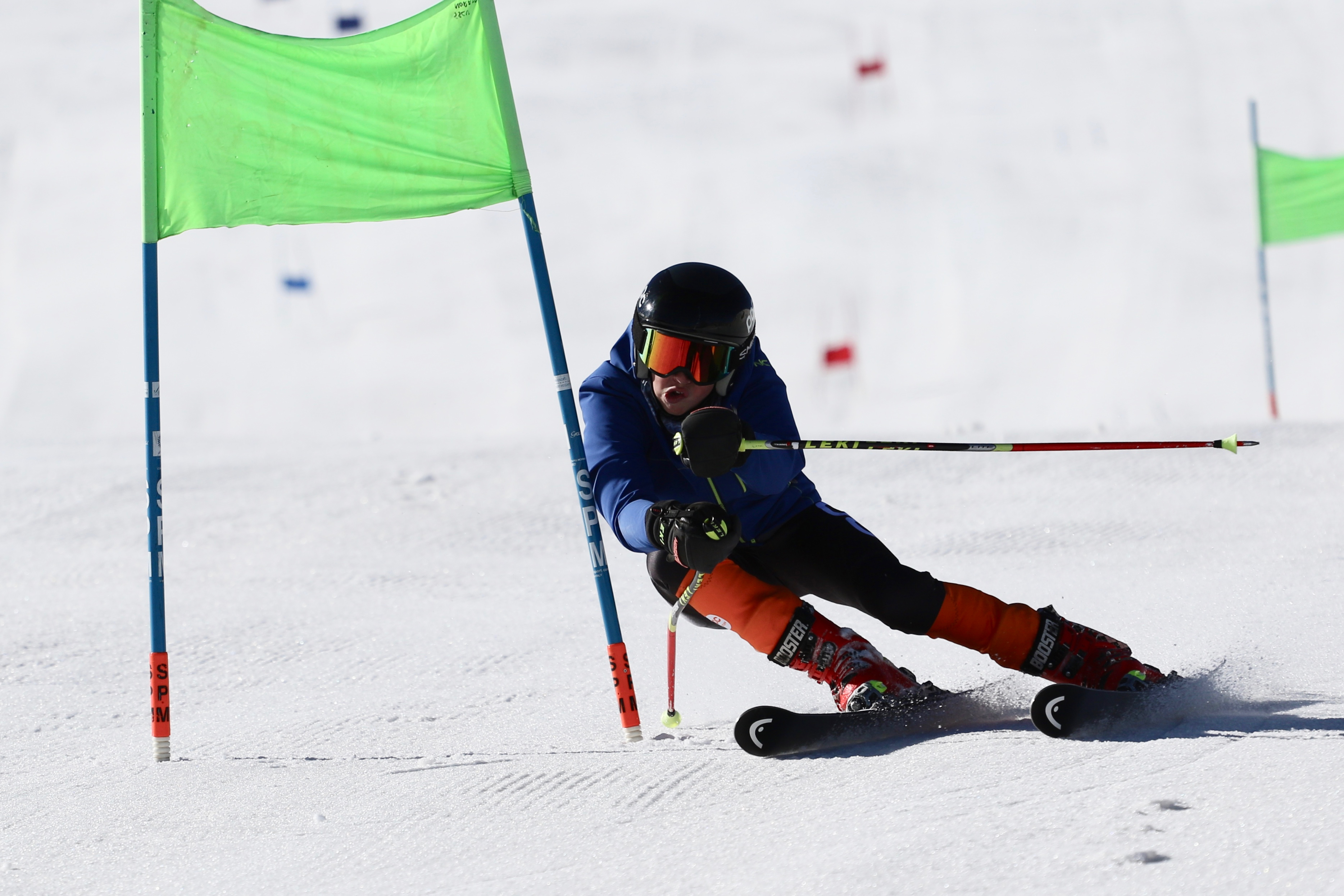 LISK and SPM are the two major brands of Alpine Gates usually encountered. Each offers various plastic shafts, hinges and bases. It is not unusual for gates to be broken during competition or practice. Typically the shaft is damaged and replaced by re-attaching the hinge and base assembly.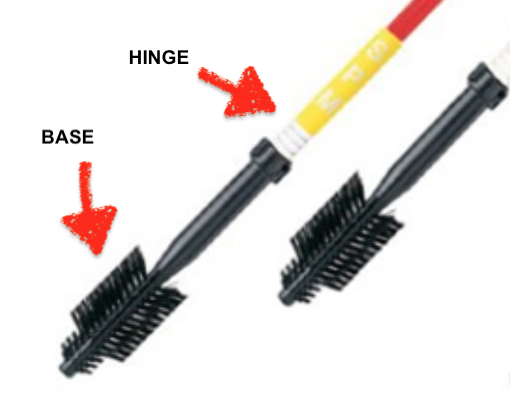 Gates are typically moved around the mountain in a "bundle". A typical bundle of gates consists of 10 Red and 10 Blue gates with a bungee holding them together. A coach will typically have a gate bundle over one shoulder [or 2 bundles for particularly strong coach]. Each gate weighs ~2 lbs to ~2.5 lbs, so, a bundle is ~40 lbs to 50 lbs. or ~25Kg. The difference in weight is realized by World Cup gates weighing ~30% more than standard 27mm shaft gates with shock cord hinges.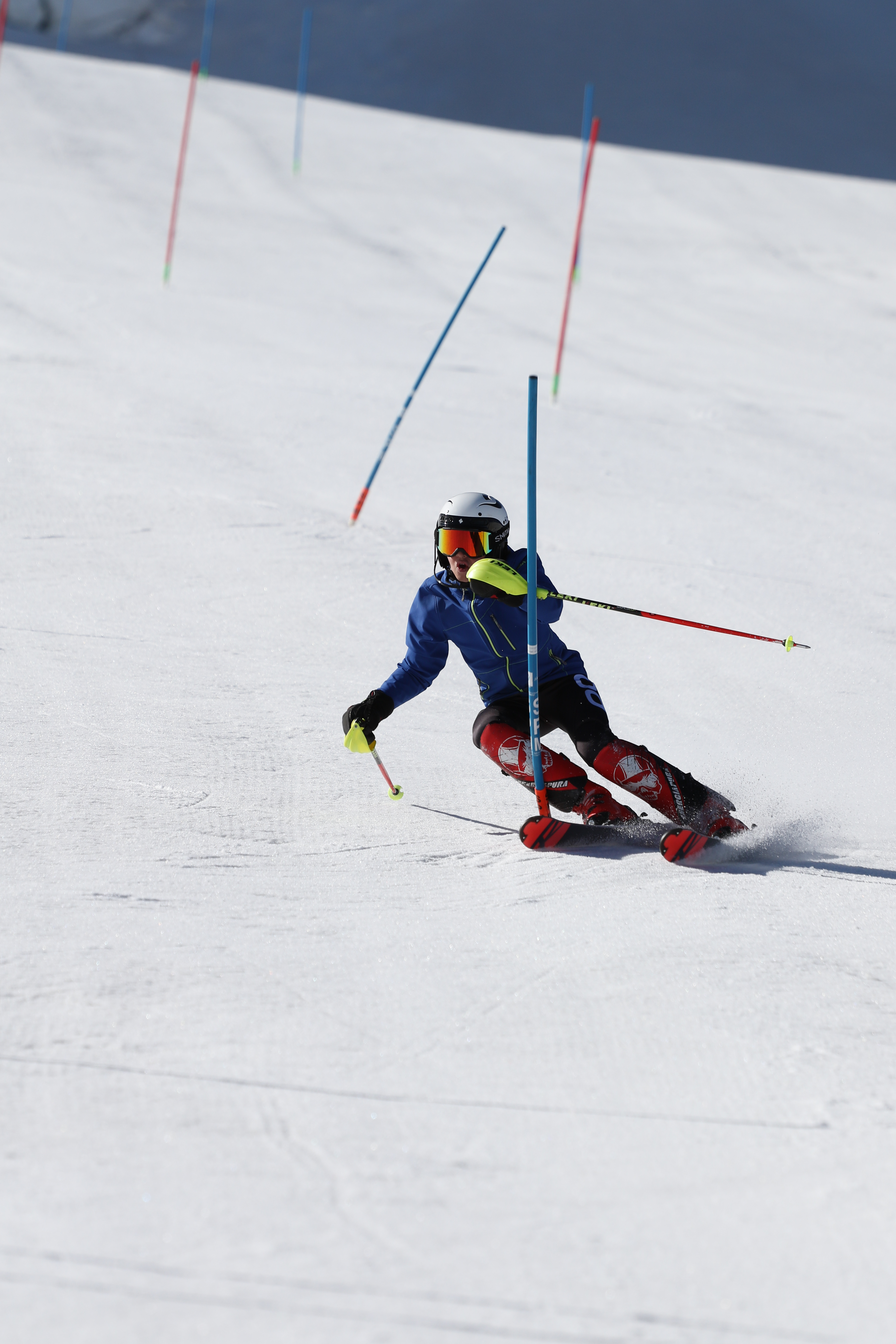 Nick cross- blocking a Jr Slalom Gate.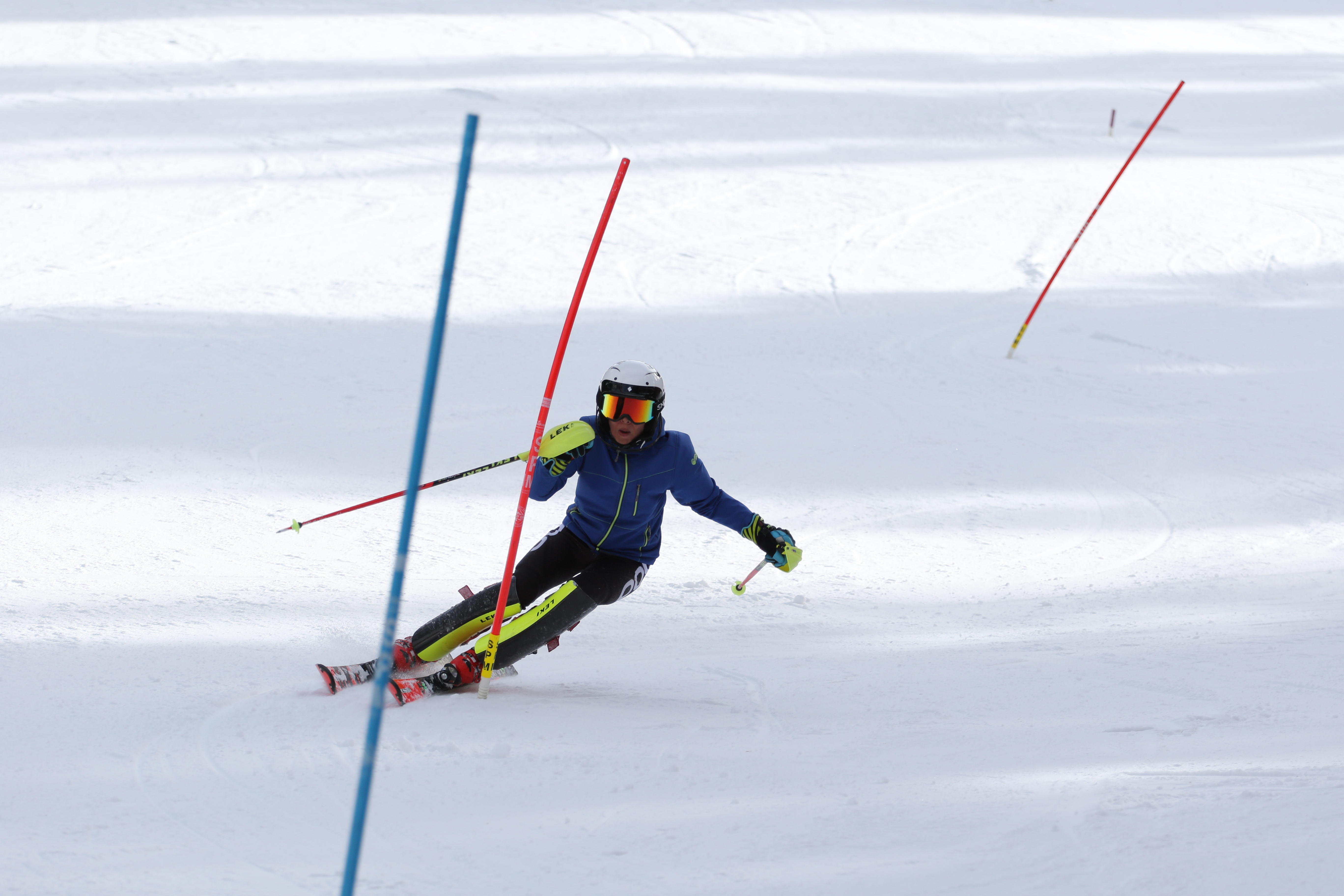 Nick cross-blocking a standard Slalom Gate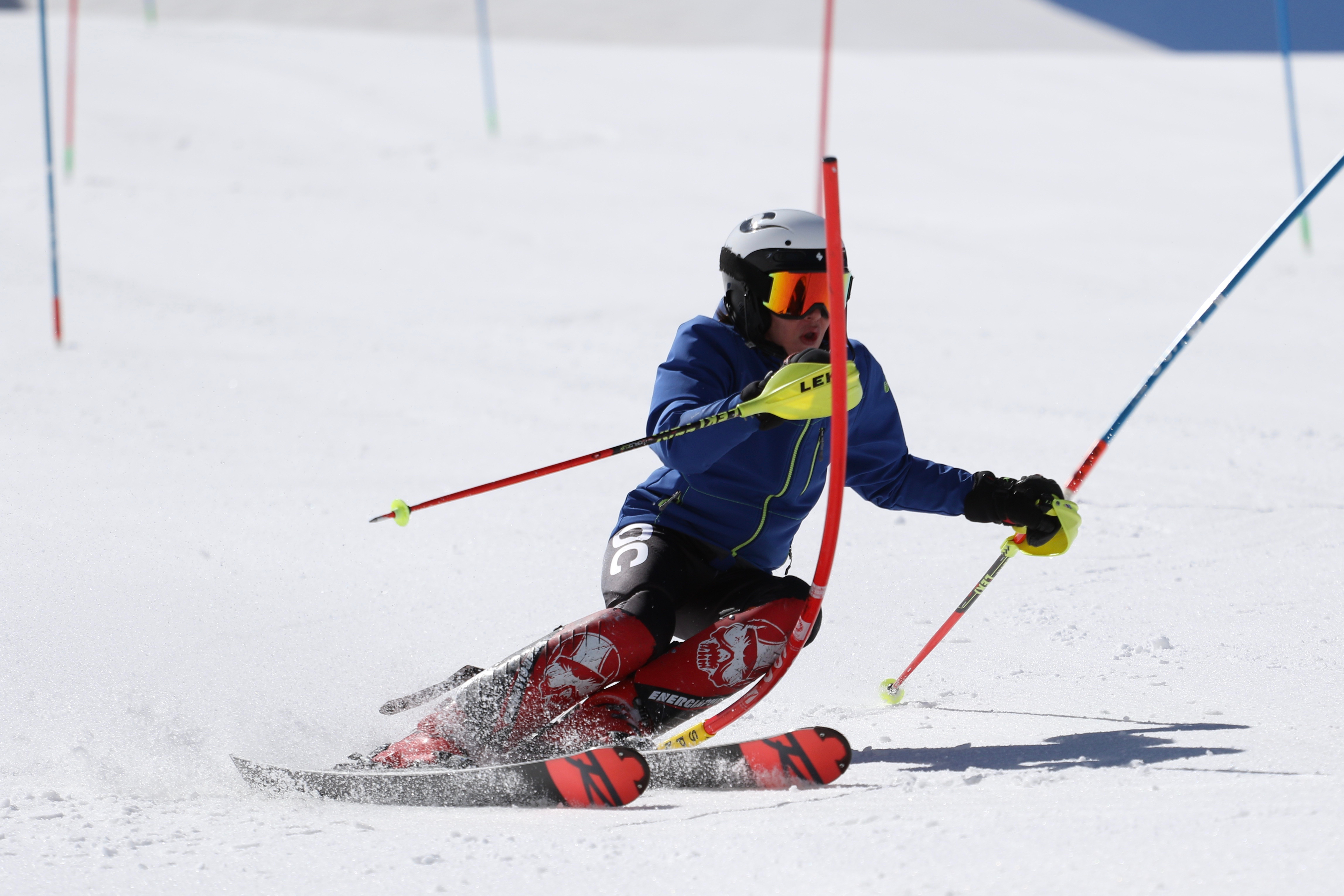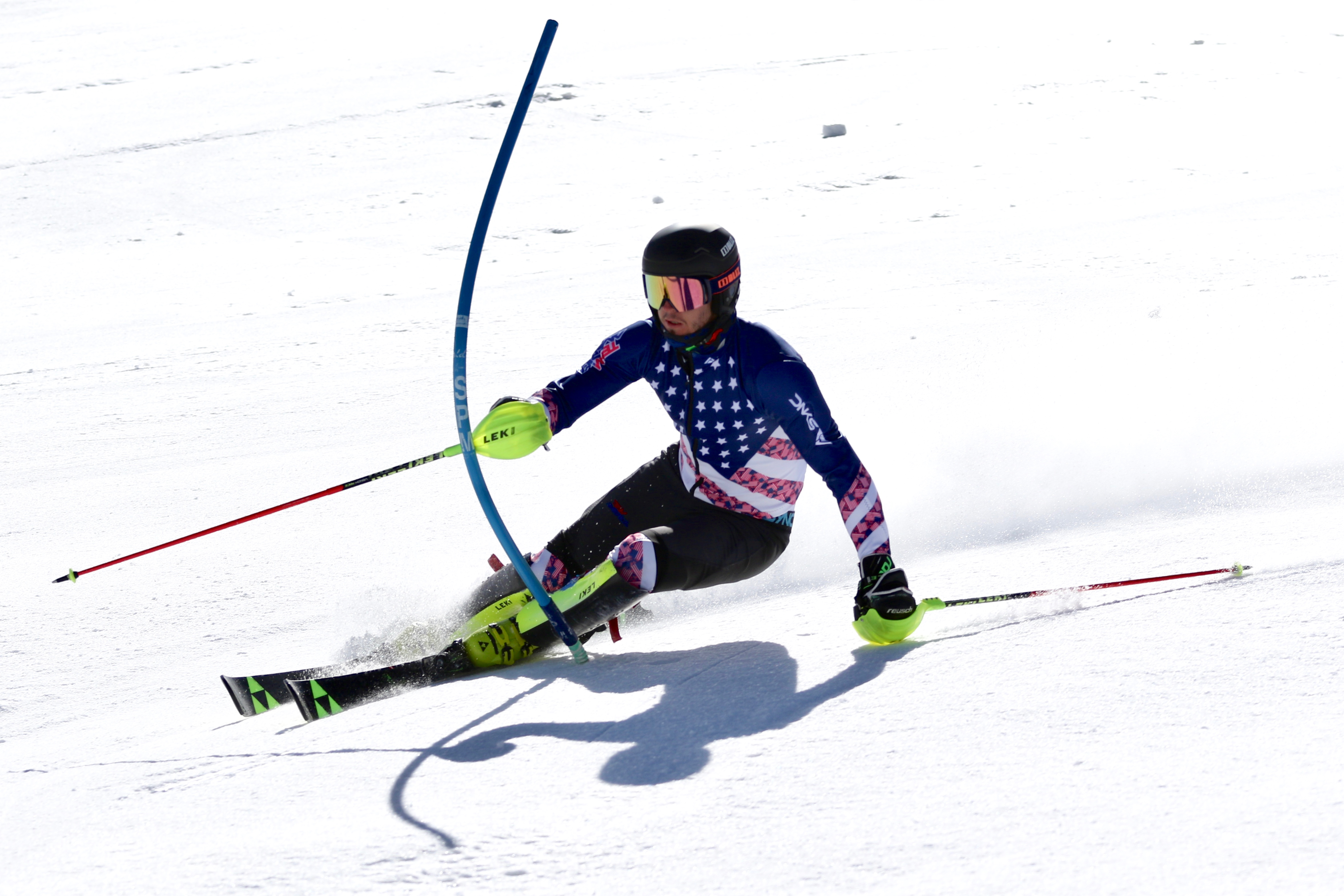 What does this all mean? Simply: 160's are a Jr. sized gate with softer hinge and plastic shaft that is designed for learning to cross-block. Stubby gates teach shinning the gate without complexity of the upper body gate contact. Standard gates have different hinges and stiffness, but, all are 185cm to be FIS standard.
The transition process from Stubby to Standard FIS gate takes many years. The transition from 160s to 185s can be particularly challenging as the shaft length and stiffness take some getting used to. Many times the taller gate tends to whip around when not blocked or timed correctly; the resulting "gate to the back, chest, hand, leg, etc" will leave a mark for sure. More padding, more reassurance, more practice will conquer the standard gate and make a much better slalom skier on all gates alike!