ICE is internationally recognized by emergency and hospital personnel as "In Case of Emergency"….
ICE + Phone number indicates a contact to call when something bad has happened.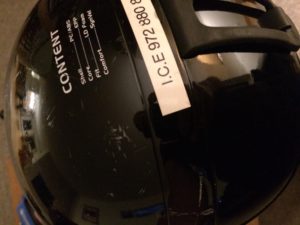 Letting a first responder know who to call when something happens is so easy…. yet, is often overlooked.
Many kids [and adults] ski alone without identification cards. A serious accident could render an individual unresponsive / unconscious. Having a contact number in easy view can be a huge benefit.
Simply print I.C.E. and phone number [parent or emergency contact] with a label maker and stick it on the back of the helmet! Its that simple.
Skiing backcountry, riding motorcycles or snowmobiles alone….. think about it.