….May not be so spectacular if snow conditions do not improve soon!
This would be specific to the non-scored event typically held at Beaver Creek on Bear Trap March 31- April 1st for the past several years. The scored event is held at Vail…..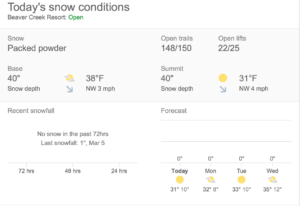 The last snow that dumped 5″ in Summit county, unfortunately, did little to help Beaver Creek…..
If the race is cancelled, or moved, it will not be the first. The Age Class U12 Championships scheduled for March 17-18th at Powderhorn  was moved to Keystone due to snow conditions just last week.
We will have to wait and see what happens to the GS Spectacular this year at Beaver Creek.
However, on a positive note, Loveland looks to have plenty of snow to continue the longest running ski race tradition in the Colorado race series with the "Loveland Derby" scheduled for April 7-8th 2018!