Check out this post from Keystone: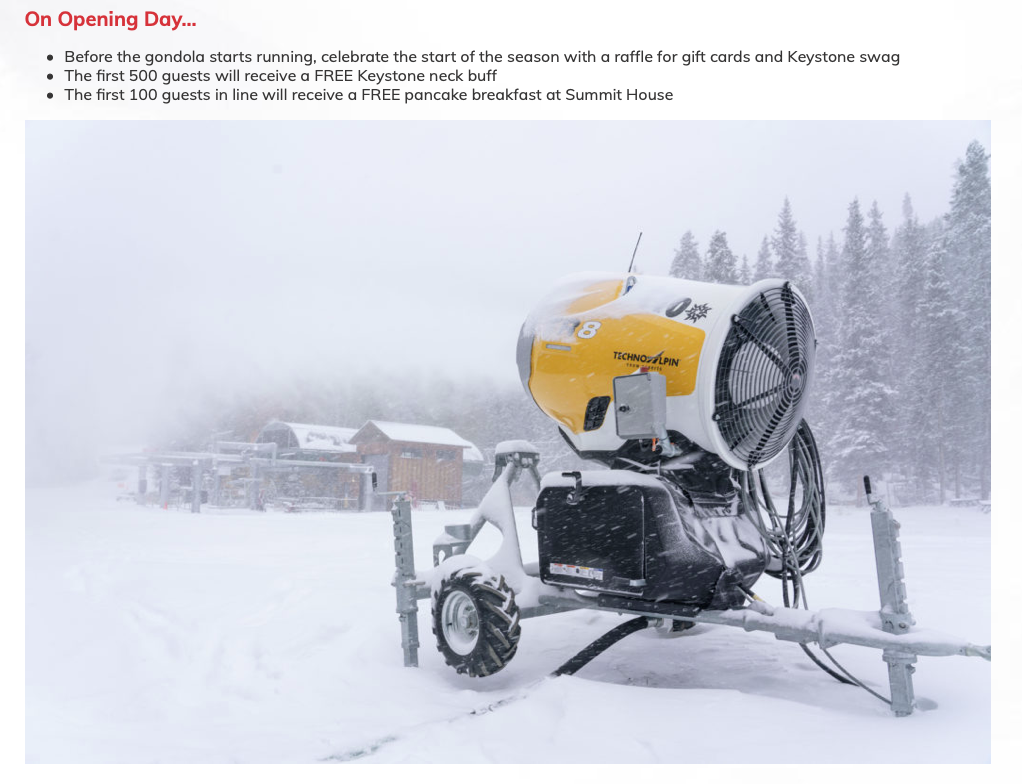 Keystone says this is the earliest season open in 20 years!!
Well, I guess the new snowmaking investment worked out this year. In previous seasons, A-Basin [the closest resort to Keystone] was part of the Vail – Epic Season Pass. As mentioned in a prior post, A-Basin has a long history of early season openings. In fact many count on starting the Epic ski season with opening day at A-Basin.
All of this changed with the 2019-20′ ski season. A-Basin did not join with the Vail-Epic resort network. Instead, A-Basin signed on to the Ikon season pass with a limited number of days.
I believe Vail resort is motivated to provide an early season opening day destination at Keystone to fill the void. With a plethora of new equipment, the right weather conditions, and a little luck…. it came together.
All that said, it looks like Keystone is going to open first this year!
Congrats!!
More from Keystone:
______________________
opening day through late November
Summit House
Frisco Funk playing live from 11-1pm
$5 pancake breakfast until 10:30am daily
$7 slices of pizza with a fountain drink
9280
$7 daily beer and pretzel
Happy hour from 2-6pm Monday through Thursday
Keystone Kickoff Music Series
Kickoff your season with après outdoor concerts in River Run Village on Saturdays and live music from 2-4pm at Summit House on Sundays.
_______________________
WELL, NOT SO FAST…..
Egos abound, A-Basin worked over-time to pull off the miracle opening…. and opened October 11th, to beat Vail / Keystone by a nose!
Story at:
https://arapahoebasin.blogspot.com/2019/10/we-are-opening-today.html?utm_source=dlvr.it&utm_medium=facebook&m=1&fbclid=IwAR0r41TF7vVi1ypTEi_uZj2Px4_EMMWtV4CSdeASLeIKTZjhQSjEuxLamI8