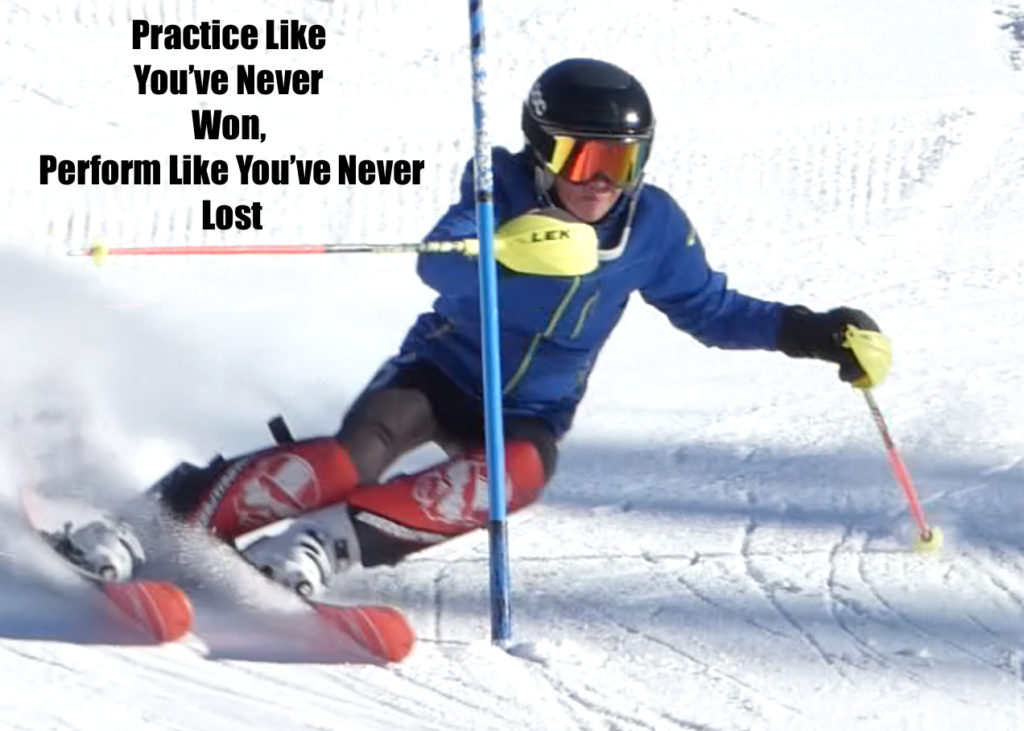 This inspirational quote can be found all over the internet, on posters with Bruce Lee, and related to just about every sport.
As the Alpine race season gets into full swing, I think we can all use a bit of inspiration….
I am sure this "thought provoking" quote has different meaning to each of us.
For me, however, it means that practicing is about discovering your limits, your breaking point, making mistakes, crashing, finding your boundaries, and getting out of your "comfort zone"….. you have nothing to lose… you are doing what you love!…..Racing, on the other hand, is just a performance, the routine, the "show" the thing you rehearsed for….. so, relax, don't be nervous, and don't think…. just DO!
So, what is the story behind this saying? To be certain, a specific origin is not clear. The saying seems to date back at least till late ~1960's or so. However, one poet did [seemingly] expand on this saying. His name is Bernard Asuncion, and is a contemporary poet. His work captures some of the elements of practice and racing I believe. You be the judge…..
Poem by Bernard Asuncion:
Practice like you've never won, 
In everything you do; 
Success isn't made overnight, 
Let it be well done by you.
Perform like you've never lost,
Do all the best that you can;
No need for wasting time,
Show that you are the man.
Practice like you've never won,
Losing shall pull you down;
Exert extra effort to prevail,
Becoming a talk of the town.
Perform like you've never lost, 
Don't be scared to make mistake; 
Learn lessons from failures
To taste the icing on the cake…….."